Ukaibune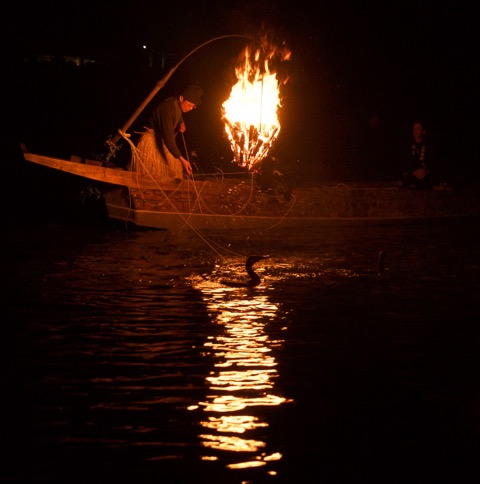 Ukaibune or ubune means "cormorant fishing boat" and in the Spring of 2017 I documented the construction of one of these iconic craft working with 85-year old Mr. Seichi Nasu. In some ways this project was twenty years in the making as I had met Nasu san during my early travels in Japan. He was one of the first river boat builders I met and like all such craftsmen working on Japan's inland waters, he used no drawings whatsoever, relying on various patterns only he knew how to use, and memorized dimensions. Nasu's father was a boatbuilder, making various types of fishing boats for customers on the Kiso and Nagara Rivers in Gifu Prefecture. At the outset of Nasu san's career there were other boatbuilders in the region, but for most of his working life he was the sole craftsman building local boats. Thirty-five years ago he taught an apprentice, but since there was really only enough work to sustain one boatbuilder that man built wooden bathtubs and buckets, until finally about ten years ago Nasu san was forced to stop making the larger cormorant fishing boats and he gave his customers to his student.
I visited Nasu san over the years and always expressed my desire to study with him. He in turn always had an excuse: no work at that moment, and then later, declining health. But a few years ago I met Mr. Masashi Kutsuwa, head of the furniture program at Gifu Academy in Mino City, Nasu san's hometown. Kutsuwa san was encouraging his woodworking students to take up traditional crafts that were fast disappearing in the region and urging them to create new markets. Kutsuwa san himself led a successful effort to relearn the craft of bamboo cormorant basketry, a unique type of basket the fishermen use to carry their birds.
Over the last few years I worked closely with Kutsuwa san as we first approached Nasu san's single apprentice, and then Nasu san himself, to put together a research project. Finally this year it all came together, with a young fisherman willing to buy a new boat, and a research grant from the Freeman Foundation. Gifu Academy provided us with a temporary worksite alongside their woodworking studio. Nasu san agreed to come in daily and supervise our work, laying down the lines of the boat (while we recorded them) and demonstrating techniques, some of which I had never seen before. Tobunken, the Tokyo Foundation for Traditional Crafts, documented the work with video and additional interviews and we are now working on a book, due to be published in 2019. In addition to myself, three other volunteers worked on the boat: Marc Bauer, Satoshi Koyama, and Hideaki Goto. I blogged about the construction starting here, where you can also find more links to the project's partners as well as additional photographs: (http://blog.douglasbrooksboatbuilding.com/2017/05/it-begins.html).
Fishing with cormorants today is strictly for tourists. During a six-month season from May to October six fishermen in Gifu City and three fishermen in Seki City go out nightly in their boats, followed by tourist boats, and demonstrate this ancient and colorful fishing. The fishermen are deeply devoted to the tradition which they claim stretches back over a thousand years. The methods, dress, equipment and boats all show almost no sign of modernity. The nine fishermen are all part of hereditary lines with the senior fisherman in Seki claiming to be the 18th generation of his family to follow this trade.
The boats are made of maki, a type of mountain pine which has recently become very expensive due to exports to China, where it is being used to make coffins. The nails used have a square shank, unlike the flat steel nails used throughout the rest of Japan. Nasu san also made his nail holes using the momojiri, or moji, an ancient tool from China which consists of a square chisel with a long handle inserted at right angles. The chisel is hit into the wood and then twisted several times before being hit again. Its a slow process and, coupled with the fact a cormorant boat has 900 nails, represents a significant amount of labor. I have never met another craftsman using this tool. Nasu san did show us his entertaining nailing style, in which he plays a rhythm while driving the nail. A minority of boatbuilders in Japan do this. See a video of it here: (http://blog.douglasbrooksboatbuilding.com/2017/09/nailing-with-video.html).
The boats are 42-feet overall and four feet wide. They have no floor timbers and just a single beam in the middle. In many ways they are unique among river boats in Japan, featuring upright transoms at the bow and stern. Most Japanese river types have a steeply raked, pram-type bow. All the planking is one sun thick, or about 1-1/4 inches. This is extraordinarily light construction, but Nasu san explained the fishermen require an uncluttered interior in which to work and it is felt a light and flexible boat is safer on a fast-moving river. The result, however, is the boats only last ten to fifteen years. Of the nine boats working in Gifu and Seki only one was built by Nasu san: the rest have been built in the last ten years by his apprentice.
Our boat was launched with a simple Shinto ceremony on July 26th in front of the Ukai Museum in Gifu City. In accordance with local tradition the owner and builders capsized and rolled the boat three times. It is felt a boat capsized intentionally upon launch will never capsize again.
In 2020 the Tokyo National Research Institute for Cultural Properties published my book on building the ukaibune (called ubune in their publication). The text is in Japanese and available as a PDF file for free download at: https://www.tobunken.go.jp/ich/wp-content/uploads/ubune2020-1.pdf. I hope to soon publish an English version.