Lake Champlain Trapping Boats
Two student-built replica boats. The posts in the boat on the right held oarlocks, an unusual feature we've found on several historic boats.
In 2014 I initiated a research project in collaboration with the Henry Sheldon Museum of Vermont History in Middlebury, Vermont. Entitled In Champlain's Wake; Small Boat Traditions of Lake Champlain, the project's goal is to document the design and construction of small craft in the Lake Champlain region. This work is an outgrowth of research I started with students at Middlebury College and have continued with students at the University of Vermont. Our main partner is the Patricia A. Hannaford Career Center, Addison County's technical high school, where for the last three years I have been working with students in the Advanced Design Engineering class. We bring historic boats into the classroom and students interview their owners, measure the boats for detailed CAD drawings, and build replicas. In 2016 we were able to publish our first monograph on the history, design, and construction of muskrat trapping boats, once commonly used in this region and largely built by their owners.
Until the 1980s muskrat trapping was common in the region. In the Champlain Valley dairy farmers trapped the creeks and waterways that abutted their farms. For many farmers the income from pelts was a significant source of revenue, and most trappers built their own boats. These craft look simple, and reflect the basic carpentry skills of their builders, men who had to be jack-of-all-trades in running dairy farms, but it would be a mistake to describe the boats as crude. Their double-ended shape (locally called "two pointers"), were perfectly designed for running through the cattail-choked waters. The boats were also sheathed in tin since trapping season took place in late fall and early spring when ice was on the water. Trapping boats were propelled by poling them standing up. In short, these boats are a perfect marriage of form and function, testimony to their owners' understanding of the environment and their needs.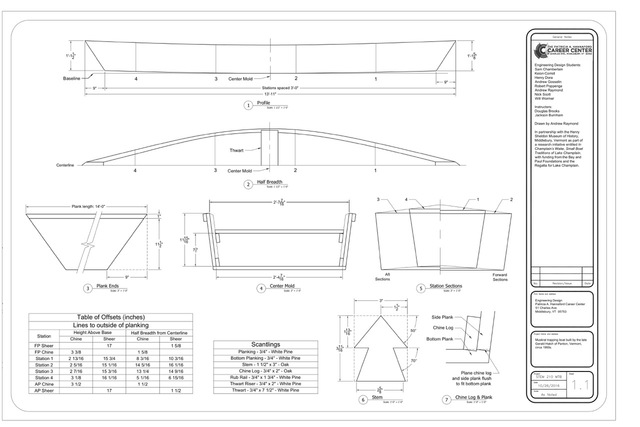 An example of the students' CAD work, here the Hatch trapping boat. Since 2014 the research project has produced drawings of seven historic boats, the first detailed documentation of Lake Champlain small craft.
To date my high school students have researched and drawn seven traditional boats and built replicas of six. Their work represents the first comprehensive documentation of Lake Champlain small boats and we look forward to continuing this work. This research is grant-funded and we have relied on the generous support from a variety of sources, including the Lake Champlain Basin Program in partnership with the New England Interstate Water Pollution Control Commission; The National Park Service and the Champlain Valley National Heritage Partnership; the Patrick Foundation; the Bay and Paul Foundations; the Regatta for Lake Champlain; and Mr. James Bullard. Additional in-kind support has been provided by the Henry Sheldon Museum and the Patricia A. Hannaford Career Center. Oral history training was provided by the Vermont Folklife Center. Lathrop's Maple Supply of Bristol, Vermont and R.K. Miles, Inc. of Middlebury, Vermont generously offered discounted materials for our boatbuilding.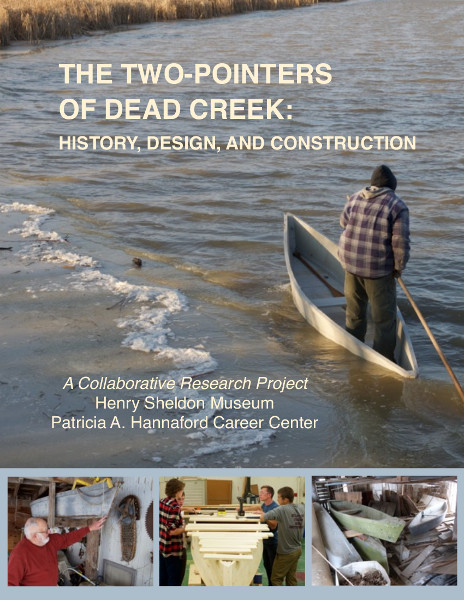 Cover of our monograph, published January, 2017 and based on three years of student research and work.