Point Reyes National Seashore, Point Reyes, CA
36' Motor Lifeboat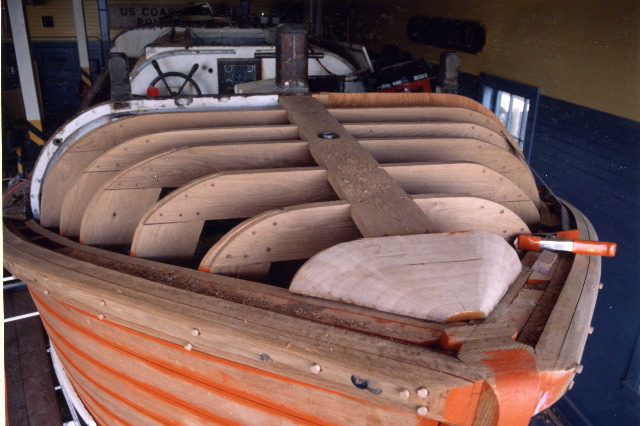 Lifeboat #36542 was built in 1953 and served at Drake's Bay and later Humboldt Bay, California. It was the second-to-last wooden lifeboat to serve in the Coast Guard, and when it was decommissioned in the 1982 it was given to Point Reyes National Seashore (historic photo courtesy of Point Reyes National Seashore, National Park Service). The boat had served at Drake's Bay through the 1960's and was involved in a bizarre accident Thanksgiving of 1960. The boat was dispatched with two crew on a search mission, but disappeared. The boat was found the next morning, nosed into the beach, the motor still running. Apparently a rogue wave rolled the boat, sweeping the men off. Since these boats were designed to be self-righting, it is presumed that the boat steamed away from its unfortunate crew. After their bodies were found, 36542 was known as the Dead Man's Lifeboat.
After donation to the Park the boat was left outside and rainwater caused severe deterioration above the waterline. I consulted with the Park Service and suggested that the boat house, with its railway, be used as a temporary shop facility. The boat was hauled and I commenced work on her in April of 1990. In all I replaced about one-third of the planking, along with the guards and the forward and after houses.
These boats were built to very high standards by the Coast Guard's own shipyard at Curtis Bay, Maryland. Motor lifeboats of this era were planked in cypress below the waterline and Philippine mahogany above. The turtle houses were sheathed in very thin pine covered with canvas.
The boat is now displayed on its carriage inside the restored Drake's Bay Lifesaving Station at Point Reyes National Seashore. In service these boats stayed in the boat house but were launched daily off the railway. The Point Reyes Station is the only complete lifesaving facility (station, boat and railway) in existence on the West Coast. The boat and the station are designated as National Historic Landmarks.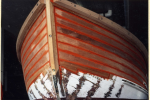 For more information on the history and restoration of this lifeboat, see the Research and Publications page.