Ritsurin garden tour boat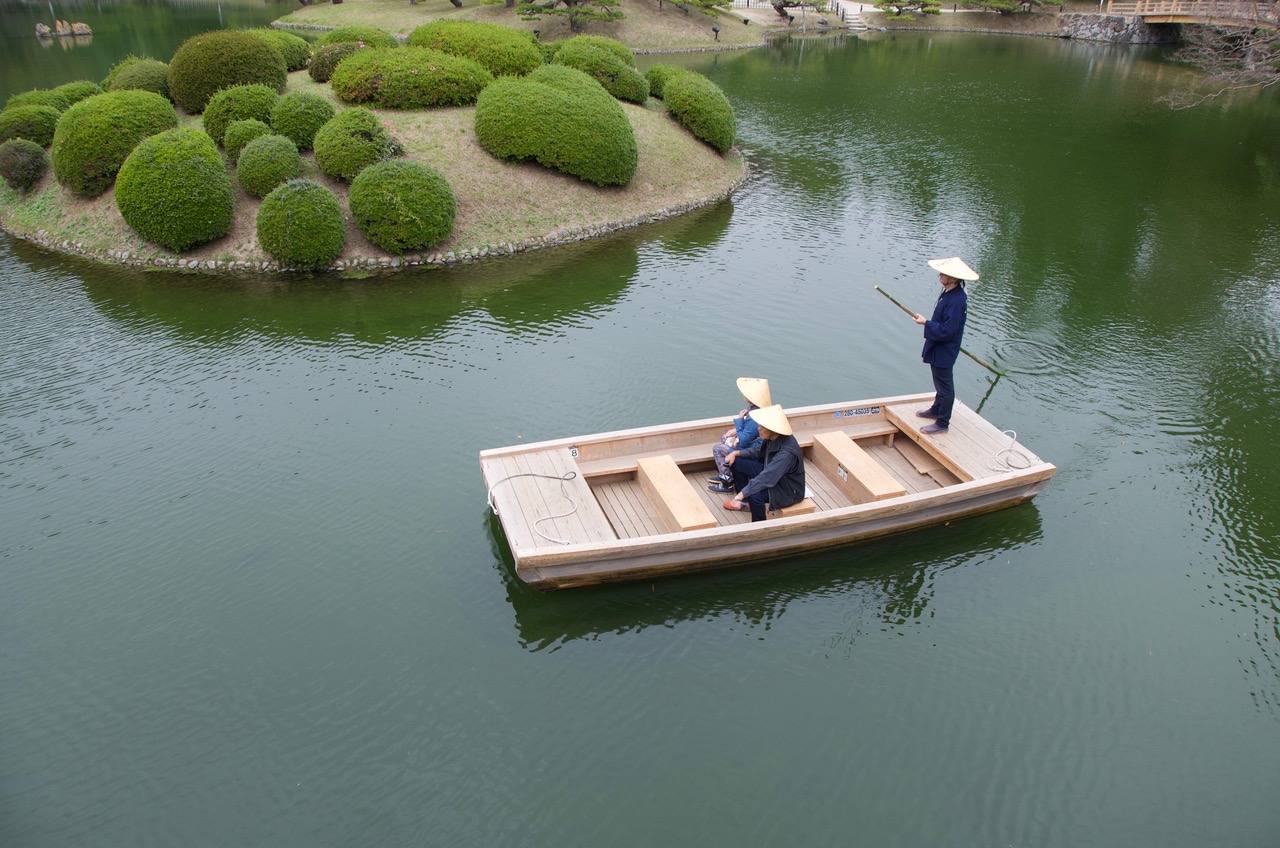 In 2016 I was invited by a company outside of Takamatsu to build a boat for Ritsurin Koen, considered one of Japan's three most famous gardens. The company have built small tour boats for both the garden and the Takamatsu Castle moat. At the time they hired a boatbuilder in his eighties, but by the time the Garden approached him for a second boat the craftsman had passed away.
I used the same design building the new tour boat for the Garden. The boat was designed by a house architect and is functional in the extreme. Basically a small scow designed to carry six passengers and the boatman, the design is symmetrical fore and aft with slight curved sides and bottom. That said the boatbuilder had used traditional techniques, edge-nailing the bottom and side planking. The transoms were bolted to the bottom.
I agreed to build the boat and in January, 2017 I travelled to Japan. The company is located in the small town of Oda about an hour west of Takamatsu City. The setting is gorgeous, on a small peninsula on the Seto Inland Sea, ringed with quiet villages. The quiet can be mildly disturbing, as the small towns in this region are depopulating. In Oda the schools, police, and fire stations are all closed. I stayed in an empty house overlooking the water.
The company that hired me makes cabinetry and furniture for small cargo ships, primarily those built in the shipyards to the west in Ehime Prefecture. They have about fifteen employees in an old, but fully equipped shop. It is production work and the shop hums along very efficiently. The company was founded by the owner's father who built fishing boats starting after the War. His son transitioned away from boats as competition from fibreglass boats grew and into cabinetry.
Prior to my arrival the firm gathered gorgeous, high-quality cedar and cypress for the project. I ordered boat nails from my friend Shibafuji san in Kochi. He has been collecting stock from retired boatbuilders. The bottom is made of cypress along with the covering boards. The rest of the boat is cedar. It took me just over a month to build the boat, which was test launched before delivery to the Garden.
This is one of four boats I have built for Japanese gardens: three in the United States and this one in Japan. This is the only garden boat I have seen carrying passengers. Ritsurin Koen is a huge garden in terms of area, with very large ponds throughout. The tour boats have proved to be very popular and I can say it gives one a lovely perspective on the garden.