Lake Champlain Maritime Museum, Vergennes, Vermont
21' Racing Sharpie Woodwind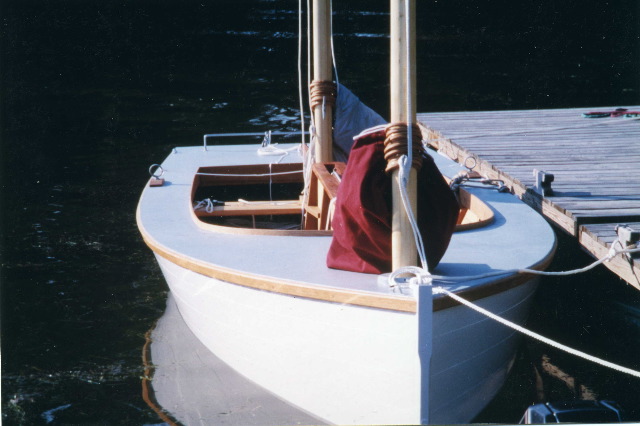 Sharpies were developed in the New Haven, Connecticut area in the late 1800's as oyster boats. These shallow-draft, fast boats soon spread to the Chesapeake Bay region and beyond. "Adirondack" Murray, an enterprising sportsman and writer, extolled the virtues of these boats to businessmen in Burlington, Vermont and convinced them to begin building sharpies as racing yachts. On Lake Champlain these boats carried oversized sailing rigs and races saw heavy betting among spectators.
In 1995 I built a replica sailing sharpie using lines published in an 1886 edition of Forest & Stream magazine. The construction and materials were traditional: pine planking on oak frames. The bottom was cross-planked and the seams were caulked with cotton and her deck was canvassed. Her sailing rig featured traditional "leg o' mutton" sails. The foremast is the larger, and like many sharpies the boat has a third mast step so one mast can be removed and the rig changed to a sloop. The boat sailed well, especially running downwind "wing-on-wing".



Three teenagers from Burlington helped me build the sharpie, and each student also built themselves a kayak. At the end of the project the public was invited to suggest names and Woodwind was chosen from hundreds of entries.